Call our mobile phone now 480-940-3108 To see How Our Paintless Dent Removal Process Can Repair Your Automotive Dents Today. Email us at DentPro Estimate.
Paintless dent repair or paintless dent removal is a metal sculpting art form perfected by years of experience. The dents are gently massaged out with the use of many different tools designed for each specific area. Constantly changing tools and techniques make it extremely important to stay up with the times.
DentPro's mobile certified master technicians can repair small dents, dings, creases, and hail damage other PDR companies can't. Whether it's on a fender, door, hood, trunk, roof, or even roof rail, we've removed damage from every metal panel with high-quality permanent results. Environmentally friendly, our unique dent removal process preserves the factory finish and restores the metal to its original position without using paints and/or fillers. All at a fraction of the cost of a body shop.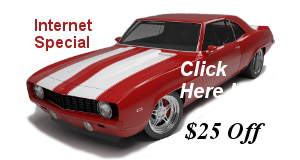 We'll come to you. Damage such as a door ding, shopping cart dent, golf ball or baseball dent, small crease or any other minor dent can be repaired at your home or office in about an hour. Hail damage has to be scheduled and usually takes 1-2 days. Taking pride in customer service, our licensed and insured technicians are on time and professional. DentPro also offers a 100% satisfaction guarantee. If you are not 100% satisfied with the repair you don't pay.
Locally owned and operated, DentPro has serviced the greater Phoenix valley since 1997. Auto dealers, body shops, insurance companies, rental car fleets, and private individuals have all used our service. We have experience in everything from classic show cars and muscle cars to one of a kinds and modern high lines:
Fiat
Kia
Hyundai
Nissan
Ford
Chevy
Pontiac
Isuzu
Dodge
Mazda
Honda
Volkswagen VW
Subaru
Buick
Chrysler
Jeep
Toyota
Mitsubishi
Saab
Lincoln
Acura
Lexus
Jaguar
Audi
Infinite
Cadillac
Hummer
Porsche
BMW
Mercedes
Bentley
Range Rover
Maserati
Lamborghini
Ferrari
Rolls Royce
Whether you have simple dings or advanced dents, you can trust DentPro with all your paintless dent repair needs.